Mother Mary Help Us
(SM-music, Liette McManaman-words)
Who is He
(SM)
Psalm 47
(rap)
(SM-music, Bill Stock-words)
Other things from Voices:
Ave Verum-Faure Mollie Ward and Katie Schneller, talented high school students.
Regina Caeli-Aichinger
Maria Wiegenlied One of my favorite Christmas pieces by Max Reger. I did a synth arrangement of it using only the Novation laptop.
from Together We Sing(Youth Choir)
You Are God
(SM)

That's Monica singing and Shamus doing the "rap". Caleigh is the snooty girl who appears in the middle. Sara Hutchinson wrote the "rap" words when she was a 7th grader.
I'm glad I'm Home Again
(SM)

Not exactly church music but what the heck. I had transcribed for banjo(painstakingly) an Irish bagpipe tune called the Gold Ring. I added chords and a vocal melody and Liette and I wrote the words. Dave Fishlock played the percussion. Shamus sang when he was just at the edge of not being a soprano anymore.
Pie Jesu Faure's Pie Jesu with Michael Cunningham singing.
Brighten My Soul
Other choir recordings:
Maranatha.mp3
(SM)
From Advent Concert 08
Dominican chant.mp3
I wanted this piece in the Advent concert even though it is not strictly an Advent piece, although it is Marian. It's very clearly in the mixo-lydian mode which gives it a kind of folky sound. I added the cello part, which was mostly harmonics, to give it a bit more harmony, but not too much because keeping it sparse was important.
I really wanted this to go on Voices of St. Gertrude but there were too many little things wrong with it.
Wachet Auf(Bach) 1st movement
Two pieces we did at Christmas for two violins, flute, harpsichord, and two cellos.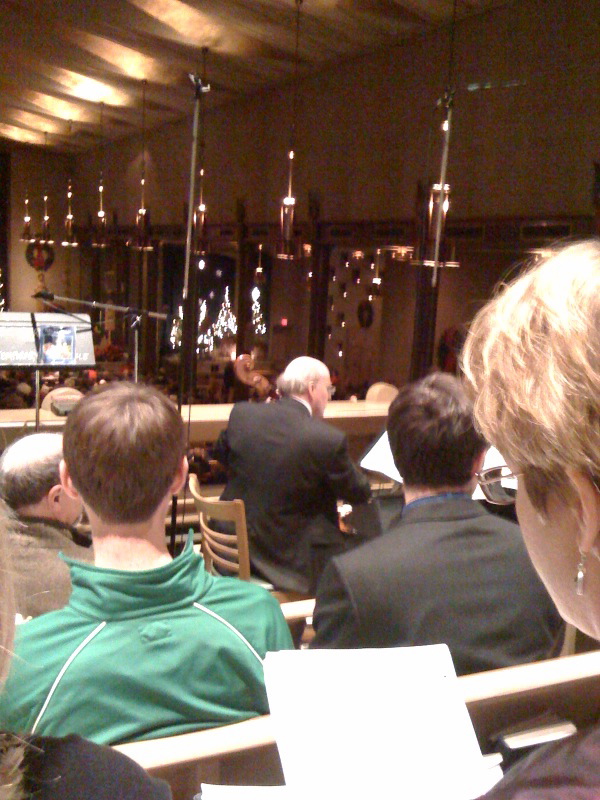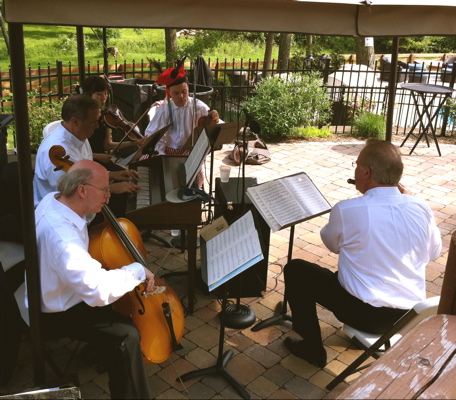 Three Men and a Harpsichord
St. Pat's Choir loft(Montreal)